You can get in touch by calling 96 551 50 59 or 96 551 50 35. You can also do this by sending an email to infobeniarres@gmail.com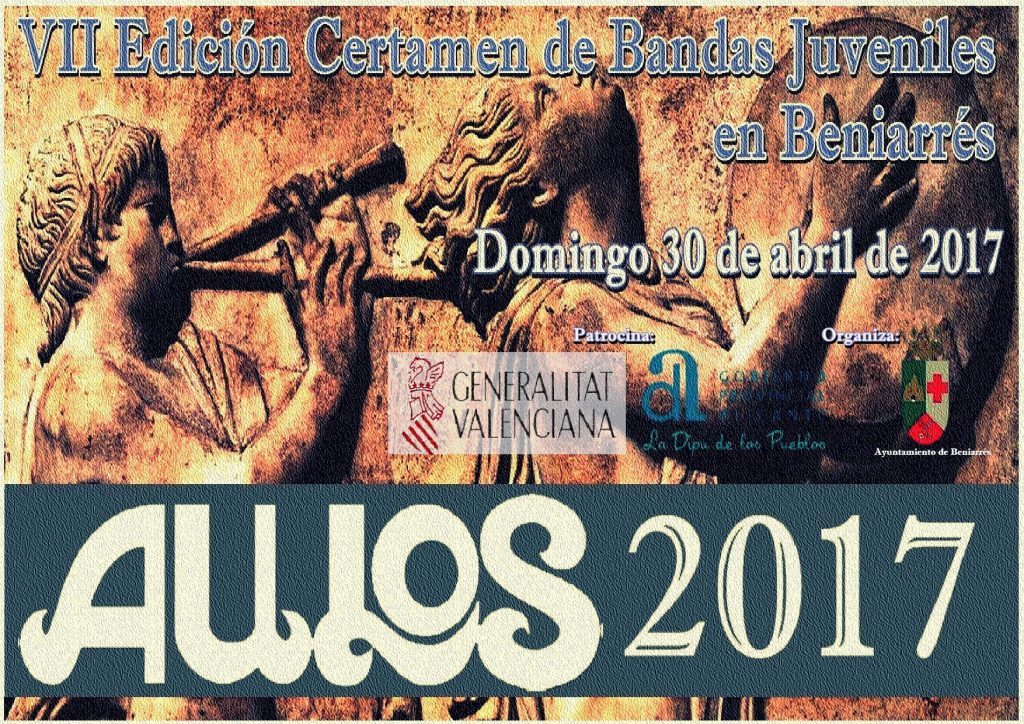 Bases Aulos 2017
DRAWING TO PARTICIPATE IN THE AULOS 2017 EXHIBITION
Last Friday, February 24, the draw for the VII Youth Band Contest took place in the plenary hall of the City Hall. This year there have been 10 bands that have entered the draw: (MUSICAL ARTISTIC CENTER OF MONCADA, BANDA JUVENIL UNIÓ MUSICAL SOCIETY OF MONTSERRAT, BANDA JOVE OF THE UNIÓ MUSICAL D'ALBAIDA ¨L'ARANYA¨, MUSICAL GROUP OF MANUEL, BANDA JOVE UNIÓ MUSICAL DE PLANS, MUSICAL GROUP SANTA CECILIA DEL GRAO DE VALENCIA, MUSICAL ASSOCIATION CASTÀLIA (CASTELLÓ), CENTER ARTISTIC VERGE DE LA PAU (AGOST), MUSICAL INSTRUCTIONAL CIRCLE OF XIRIVELLA AND YOUNG BAND MUSICAL ASSOCIATION CANALENSE). From here we would like to thank all of them for their interest in participating in the Contest that we organize every year with much effort and interest.
We proceed to give the results of the draw:
Bands that will participate in the draw:
1.- JOVE UNIÓ MUSICAL BAND OF PLANS.
2.- JOVE BAND OF THE UNIÓ MUSICAL D'ALBAIDA ¨L'ARANYA¨.
3.- YOUTH BAND INSTITUTION SOCIETY UNIÓ MUSICAL DE MONTSERRAT.
This order, marks both the exit of the passacalle and the participation in the Contest.
Bands that enter the reserve:
1.- MUSICAL GROUP OF MANUEL.
2.- YOUNG BAND ASSOCIATION MUSICAL ASSOCIATION CANALENSE.
3.- MUSICAL INSTRUCTION CIRCLE OF XIRIVELLA.
To wish to the participating bands much luck in this Contest as well as to encourage the others to try again in future editions. We work for our youth and for music.